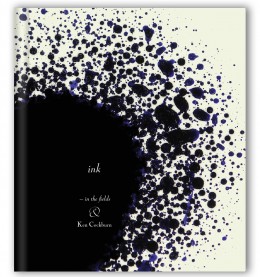 ink – a booklaunch
ink will be launched at 7pm on Tuesday 22 November at The Fruitmarket Gallery
ink is a beautiful new artist book, featuring full-colour images of the prize-winning sculptural work ink by ~in the fields, and specially written texts by Ken Cockburn, including circle poems, Reflections on the writing of marginalia, and a hidden alphabet offering twenty-six imaginary shades of blue.
The book will be introduced by Dr. Anette Hagan, National Library of Scotland and the contributors.

Details
208 x 198 mm
Hard covers
52 pages
Full colour
French folds
Edition: 500
Publisher: Abertay University Press, July 2011
ISBN 978 1 899796 25 0
Ken Cockburn is a poet, editor, translator and writing tutor based in Edinburgh. His other collaborations with visual artists include the book CENTUM (2008) with David Faithfull, and the sound installation Pandora's Light Box at the Talbot Rice Gallery (2011) with Frances Priest.
www.kencockburn.co.uk
www.theroadnorth.co.uk