a book by  ~ in the fields and Ken Cockburn.
ink is a sculptural work by ~ in the fields, developed from inscriptions found in five printed books from five centuries. These inscriptions were taken from a Bible, a copy of the Arabian Nights, a songbook and books about natural history and botany.
ink consists of five colourless clear glass bulbs – each partly filled with blue ink. When the visitor approaches, the bulbs begin to rotate, causing a layer of ink to coat the inside surface. Through the ink, illuminated handwritten inscriptions become visible on a spinning armature, thanks to the phenomenon of persistence of vision. The inscriptions are given to the visitor individually. The visitor's presence initiates the offering of the inscription once again.
In this book, images and texts relating to ink are augmented by new poems by Ken Cockburn, which consider the sculptural work itself as well as the related topics of marginalia and the colour blue.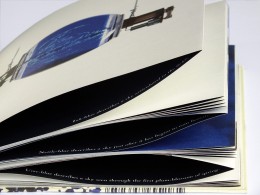 Details
208 x 198 mm
Hard covers
52 pages
Full colour
French folds
Edition: 500
Publisher: University of Abertay Press
ISBN 978 1 899796 25 0
Price: £24.95